Company with Novel Photography Tech Tries to Make It Easier, Cheaper to Make 3-D Movies
Go to article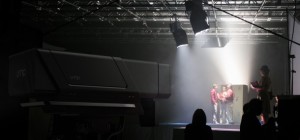 Company with Novel Photography Tech Tries to Make It Easier, Cheaper to Make 3-D Movies
Lytro, whose cameras let you change focus after the fact, will offer a professional camera for movies and TV.
A camera that should make it easier and cheaper to render films in 3-D is coming out from Lytro, a startup that has struggled to capitalize on its novel technology for refocusing images after they've been shot.
The company unveiled the Lytro Cinema camera on Monday. Like the company's consumer still camera (and, more recently, a professional virtual-reality video camera), it records the angles of all the rays of light in a given scene, producing a three-dimensional pattern of light known as a light field. This 3-D model can then be manipulated in a variety of ways by software after an image is taken.
The movie camera is Lytro's second effort to remake itself after failing to popularize its technology in consumer cameras—starting with a rectangular light-field camera, in 2012, and a second one, called Illum, in 2014. Though the technology has the potential to make photography (and now video) a lot more dynamic (see "10 Breakthrough Technologies 2012: Light-Field Photography"), it is a reminder of how hard it can be for an innovation to take hold.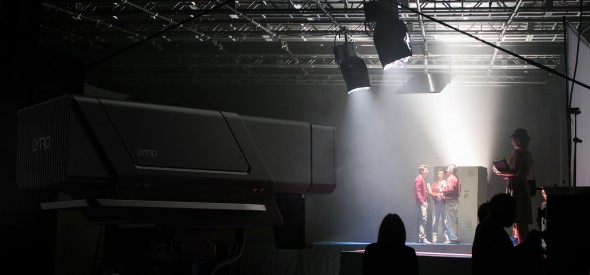 The Lytro Cinema camera has been in development for the past year and a half. CEO Jason Rosenthal says it will let professional filmmakers create high-resolution videos for which the focus, depth of field, shutter angle, and frame rates can be changed after they've been shot. Typically, these are things you'd have to set in advance of shooting. It also makes it easier to do things like cut characters out of one scene and replace them elsewhere, without needing a green screen.
The camera, the size of a bathtub when I saw it at Lytro's office in Mountain View, California, uses 60 4K cameras that combine to form a video sensor that captures frames 755 megapixels in size at speeds of up to 300 frames per second. (The standard for a movie is 24 frames per second, though filmmakers are starting to shoot at higher frame rates in hopes of making footage look smoother and more lifelike—The Hobbit, for instance was filmed at 48 frames per second.) The camera needs to be connected to large server cabinets on a movie set because a single second of filming produces about 400 gigabytes of data.
Clips from a short film called Life, which will be shown at the National Association of Broadcasters Show in Las Vegas next week, give a sense of what kinds of visual manipulations the camera and Lytro's software can make. In one shot, a boy holding a baseball is shown with the ball sharply in focus and the boy and background blurred, but then the focus changes to include both the boy and the ball.