This Machine Hints at the Future of Drug Making
Go to article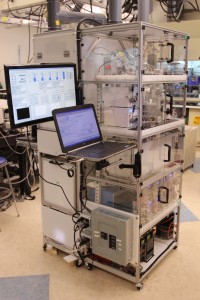 This Machine Hints at the Future of Drug Making
A portable assembly line for medicines offers a better way to respond to outbreaks and shortages.
The way drugs are made is dangerously outdated. While many industries have gotten much more efficient at manufacturing, pharmaceutical companies rely on an old-fashioned approach that is slow, inflexible, and prone to breakdowns. A new refrigerator-sized apparatus that can take in a set of ingredients and quickly produce four common pharmaceuticals is the most advanced demonstration yet of a potential new strategy for drug making that is more flexible, efficient, and reliable. Portable drug-making technology like it could be used to more rapidly respond to local drug shortages or spikes in demand, such as in an outbreak.
Making pharmaceuticals can take months to a year because the current method entails performing multiple chemical steps, often involving several different manufacturing locations. A single unanticipated plant shutdown can cause substantial supply disruptions.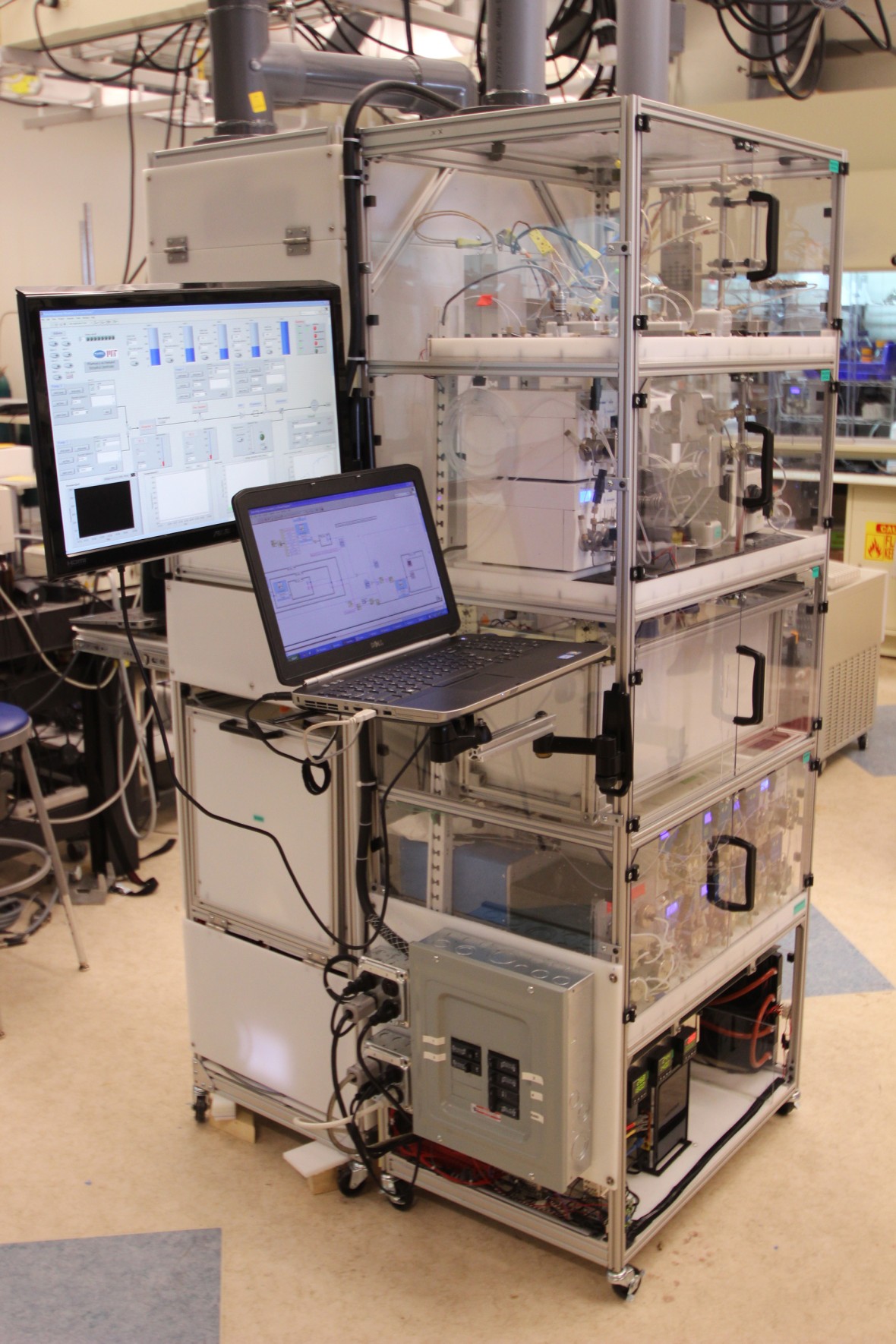 The new self-contained unit, developed by researchers from MIT, automatically runs necessary chemical reactions, separating and purifying intermediate products and passing them down the line. It can dispense liquid doses of generic Benadryl, Valium, Prozac, or lidocaine, a common local anesthetic.
It's the most compact continuous-flow system yet demonstrated, and the first that can produce multiple drugs. The four drugs were chosen by the project's sponsor, the U.S. Defense Department, in part to demonstrate the breadth of the new system's capabilities, since the drugs are chemically distinct from each other and require different synthesis routes. They are also commonly found in a medic's pack.
In 2012, the same research group developed a continuous system, built into a shipping-container-sized unit, that manufactured a high-blood-pressure medication in the form of pills (see "Breakthrough Offers a Better Way to Make Drugs"). That project was funded by Novartis as part of a 10-year, $65 million collaboration between MIT and the Swiss pharmaceutical company to develop continuous-flow manufacturing technologies.
Though the U.S. Food and Drug Administration has been advocating for better ways to make drugs for over a decade, continuous-flow manufacturing technology is still relatively early in its development. It won't replace batch processing anytime soon. But in the near-term it could be used at a small scale to speed up aspects of batch processing. And systems like the one the MIT researchers demonstrated could be used to provide urgently needed drugs on the battlefield, in disaster areas, or during an outbreak.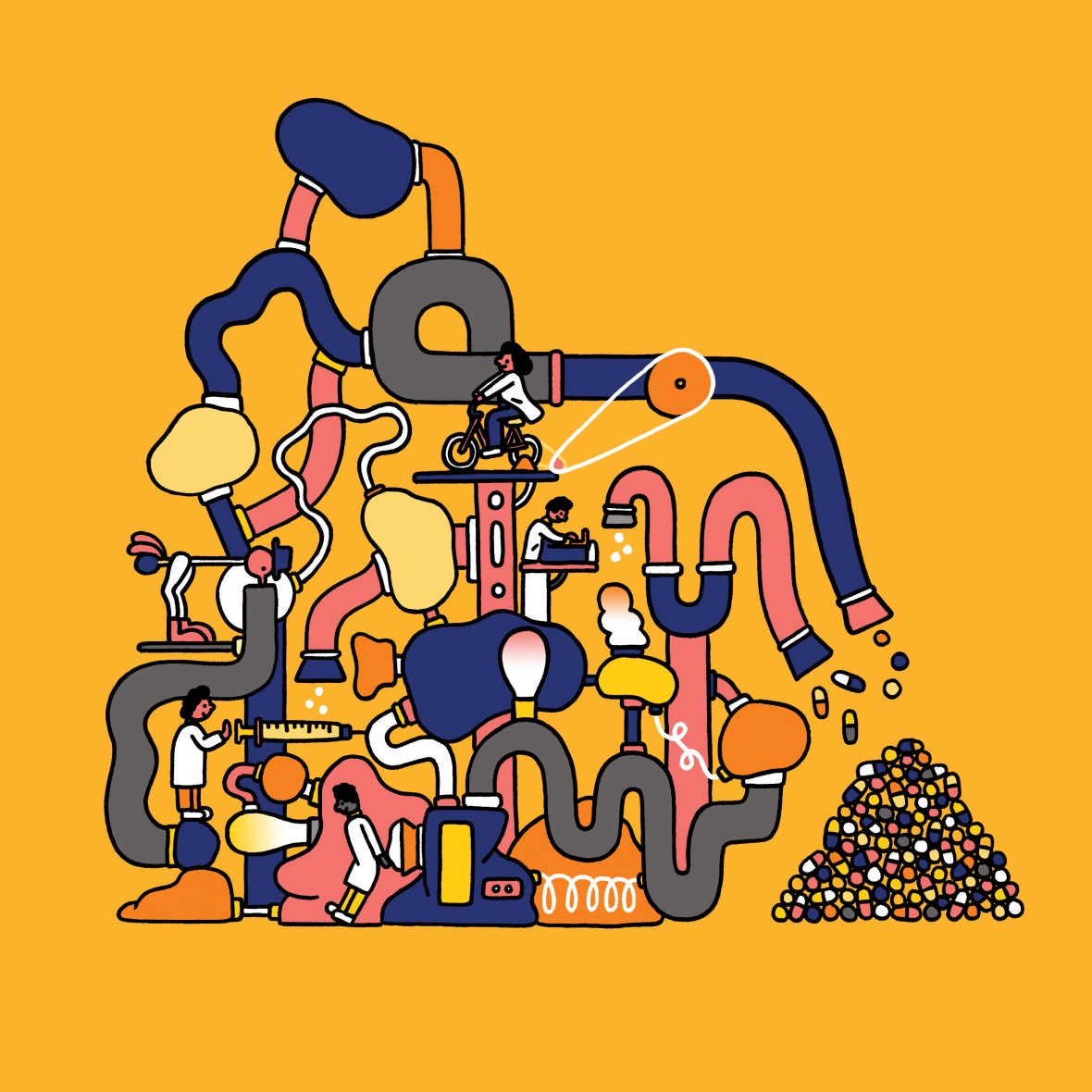 Today the pharmaceutical industry has a "very limited ability" to rapidly increase production to address drug shortages or surges in public demand for drugs, says FDA spokesman Christopher Kelly. For a typical batch process, bringing up a new line can take years.
The ability to precisely monitor the process and make needed corrections in real time is another significant advantage that continuous manufacturing offers over batch processing, says Kelly. The industry is too reliant on end-product testing, and often can't catch failures until the whole batch has already been made, he says.
Continuous-flow technology could also prove beneficial to the development of brand new drugs. Making small volumes of drugs, such as for clinical testing, is "tremendously expensive" under the current model, and it could be much more economical to do so via continuous-flow systems, says Klavs Jensen, a professor of chemical engineering and materials science and engineering at MIT who helped lead the project along with chemistry professor Timothy Jamison and Allan Myerson, a chemical engineering professor.
The new approach also offers opportunities to run certain kinds of reactions—such as those that require very high temperatures or which produce unstable intermediate products—that are not compatible with the batch approach.