U.S. Oil Companies Ignore Climate Change While the Rest of the Industry Evolves
Go to article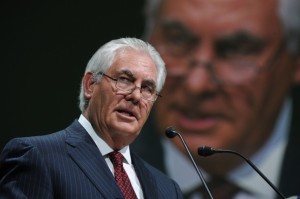 U.S. Oil Companies Ignore Climate Change While the Rest of the Industry Evolves
Exxon Mobil and Chevron shareholders voted against climate measures, but the companies are holdouts in an industry that is starting to change its ways.
Big Oil isn't going away any time soon – and yet oil companies are under more pressure than ever to deal with the risks that climate change poses to their business and to the planet.
A their shareholder meetings yesterday U.S. oil giants Chevron and Exxon Mobil avoided major insurrection, as big investors voted down a series of climate-related measures. Among them was a call for Exxon to acknowledge that limiting global warming to 2 degrees Celsius was a "moral imperative," and both companies faced initiatives that called for performing "stress tests" to determine how future climate policies could harm their bottom lines.
In his meeting address Exxon CEO Rex Tillerson declared, "Just saying turn the taps off is not acceptable to humanity," – strictly speaking, he is right. A company worth almost $375 billion cannot turn on a dime, and our oil and gas-burning lifestyle won't evaporate overnight.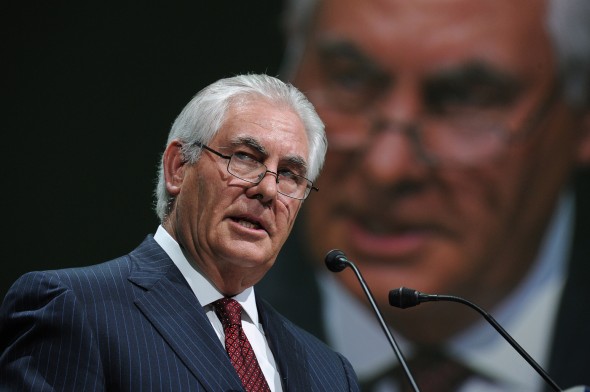 Exxon Mobil CEO Rex Tillerson.
But such comments mask the fact that oil and gas companies are approaching a crossroads. Exxon continues to behave as though economic growth and carbon emissions are one in the same – the company predicts that 60 percent of the world's energy needs will still be met by oil and gas by 2040. But carbon emissions have decoupled from economic productivity. And the Paris climate accords could significantly impact demand for fossil if the signatory countries follow through on their promises.
Other oil companies seem to be getting the message. Shell recently announced the creation of a green energy arm that will be funded with $1.7 billion in investments. And French oil giant Total pledged to push 20 percent of its assets into low-carbon investments over the next 20 years. In a strategy paper (PDF) released Tuesday, Total's CEO Patrick Pouyanne said that the Paris accords made it clear that there was a global mandate to try and limit global warming to that 2-degree threshold.
"COP21 was definitely a watershed," he said, using the acronym for the Paris meeting. "Despite the current instability worldwide, 195 countries managed to unite around an ambitious climate agreement. That sends a strong message."
In this light Chevron and Exxon Mobil are looking more and more like holdouts – slow-moving dinosaurs who are behind on innovation, even. They appear to be banking on a business model that, while profitable for now, is unlikely to sustain them for much longer as the rest of the industry gets serious about transitioning away from fossil fuels.
(Read more: Wall Street Journal, Forbes, New York Times, The Guardian, "Our Energy Transformation in 2015," "Carbon Dioxide Emissions Keep Falling in the U.S.,""Big Oil Companies Have Already Become Dinosaurs")