Shifting Economic Winds Spell Trouble for Solar Giants SolarCity and Sunrun
Go to article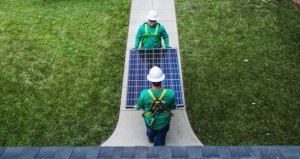 Shifting Economic Winds Spell Trouble for Solar Giants SolarCity and Sunrun
Two companies that have built their business on leasing solar panels are suffering as customers are increasingly looking to buy.
The U.S. solar market is booming—2016 is predicted to be the largest year ever for both rooftop solar and utility-scale installations. But shifting economic forces could spell trouble for some of the largest companies in the industry.
To date, growth in residential rooftop solar has been driven largely by leasing models, in which installers own the panels and homeowners make monthly payments that can span up to 20 years.
But price declines, the extension of the federal investment tax credit for solar, and an increase in the number of lenders willing to finance solar purchases are combining to make owning panels a much cheaper option for consumers.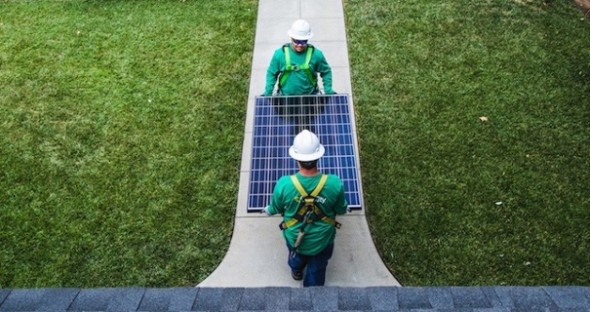 That could be bad news for SolarCity and Sunrun, two big solar providers that currently dominate the U.S. residential solar market. Both companies have built their businesses around long-term leases, and third-party ownership of rooftop solar stood at 72 percent in 2014. But GTM Research forecasts that figure will plummet to less than half by 2017. That is echoed by a report from consulting firm PwC, which concludes that "a confluence of declining hard and soft costs, changing public policy, and increasing availability and accessibility of capital" means that buying solar panels will "offer consumers considerably more value than leases."
Both companies have been hit hard by investors this year: the share price of SolarCity, which reported a first-quarter net loss of $25 million, is down 53 percent in 2016. Sunrun's stock is down nearly 50 percent. And while SolarCity appears to be changing its offerings in anticipation of ownership eclipsing leases in the not-too-distant future, Sunrun CEO Lynn Jurich has said its business will continue to be about 80 percent focused on leases.
(Read more: The Wall Street Journal, "Texas and California Have Too Much Renewable Energy," "Germany Runs Up Against the Limits of Renewables")