New Weather App Can Spread Urgent Alerts Even When Cell Networks Are Down
Go to article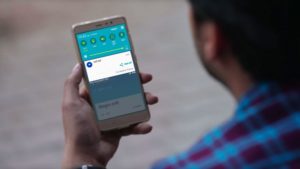 New Weather App Can Spread Urgent Alerts Even When Cell Networks Are Down
The Weather Company's new Android app uses mesh networking to spread data between phones over Wi-Fi and Bluetooth.
Cheap smartphones have flooded across developing countries such as India and Indonesia in recent years. IBM says it has invented a way to weave them into a system to disseminate emergency alerts about weather and natural disasters—even when cellular networks are overloaded or not functioning.
That technology is built into a new app the Weather Company released today that's targeted at Android devices in developing economies (IBM acquired the Weather Company in 2016). It allows phones to use Bluetooth and Wi-Fi to pass alerts about problems such as storms, floods, or tsunamis among themselves, instead of via a connection to a cell network. Messages can travel long distances by hopping across multiple links between devices.
"We want to expand the reach of this data so it can always reach people when they need it," says Nirmit Desai, a researcher at IBM's Yorktown research lab in New York, who helped develop the feature, an example of a technique known as mesh networking.
The Weather Company will activate the mesh networking feature for users of its app in India later this month. After that it plans to gradually turn it on in more of the 41 countries across Asia, Africa and Latin America in which its lightweight Android app for developing world markets is available.
Corporate, academic, and military researchers have explored mesh networking for years as a way to make digital communications more resilient. The rise of smartphones has opened the possibility of making Internet-free connectivity more widely available.
Chat app FireChat, for example, was used by protesters in Hong Kong who were fearful the government would shut down cell networks, and it has also proven popular at the Burning Man festival in the Nevada desert (see "Messaging App Weaves Smartphones Into an Alternative Internet").
If the technology works as hoped, the Weather Company's high profile and IBM's resources could make its project significantly larger than previous consumer deployments of mesh networking.
That could increase the pressure on Google to make devices more compatible with the technique, says Paul Gardner-Stephen, a senior lecturer at Flinders University in Adelaide, Australia, who leads the Serval Project, which is developing mesh networking technology for places without cellular networks.
The Android operating system that powers most of the world's smartphones and particularly dominates in poor regions doesn't natively support mesh networking. Developers have to invent elaborate workarounds to get the technique working, limiting what they can build, says Gardner-Stephen. "If Google were to actively support this kind of thing it would be much easier to do something interesting and help people with this technology," he says.