Why India Keeps Making Grand Claims About Its Energy Future
Go to article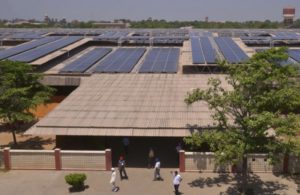 Lately we've had a mixed bag in terms of India's energy outlook. On the one hand, the country appears to be a terrific environment for green energy investment, and has made bold predictions about its plans for cutting emissions. On the other, its power minister, Piyush Goyal, recently said that India shouldn't feel obliged to stop burning coal and that "it's America and the western world that has to first stop polluting."
Now, India is canceling close to 14 gigawatts' worth of new coal fired power plants, and warning that existing plants totaling another 8.6 gigawatts in generation capacity could soon be too expensive to keep running. What's going on?
Put simply, India has a huge energy challenge on its hands. As we said in "India's Energy Crisis," our cover story from the November/December 2015 issue:
India is attempting to do something no nation has ever done: build a modern industrialized economy, and bring light and power to its entire population, without dramatically increasing carbon emissions. Simply to keep up with rising demand for electricity, it must add around 15 gigawatts each year over the next 30 years.
So the seemingly contradictory messages make sense in the context of the overall need for energy going forward: India is going to need to burn a lot more coal and build out tons of new solar and wind energy capacity to meet future demand.
Subscribe to The Download
What's important in technology and innovation, delivered to you every day.
Thank you — please check your email to confirm your subscription.
Incorrect email format
As of last year, coal accounted for about 78 percent of the total power generated in India (PDF). So adding more coal to the pile may not sound like good news from an emissions standpoint.
But there's a twist: If newly inked deals for some huge solar facilities are any indication, solar power is plummeting faster in cost than anyone thought possible. A blog post last week by the Institute for Energy Economics and Financial Analysis said that energy prices agreed to for new solar plants had fallen nearly 50 percent in the last year, to under 4 cents per kilowatt hour.
As the IEEFA post acknowledges, coal is likely to remain a big part of India's energy mixture for at least the next two decades. But things are changing fast, and those chages are heavily favoring renewables. In December, India released its ten-year national electricity plan (PDF), which included the goal of lowering coal and natural gas to a combined 43 percent of the country's energy capacity by 2027, with a total of 275 gigawatts of installed renewables in the same time frame.
A low-carbon future for India, then, could still be on its way.
(Read more: The Independent, IEEFA, "India's Energy Crisis," "India and China Are Emerging as Climate Icons")