Ford Self-Driving Vans Will Use Legged Robots to Make Deliveries
Go to article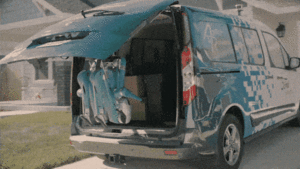 Agility Robotics' Digit will bring packages from a delivery vehicle to your front door
Ford is adding legs to its robocars—sort of.
The automaker is announcing today that its fleet of autonomous delivery vans will carry more than just packages: Riding along with the boxes in the back there will be a two-legged robot.
Digit, Agility Robotics' humanoid unveiled earlier this year on the cover of IEEE Spectrum, is designed to move in a more dynamic fashion than regular robots do, and it's able to walk over uneven terrain, climb stairs, and carry 20-kilogram packages.
Ford says in a post on Medium that Digit will bring boxes from the curb all the way to your doorstep, covering those last few meters that self-driving cars are unable to. The company plans to launch a self-driving vehicle service in 2021.