Amazon Redesigns Its Prime Air Delivery Drone
Go to article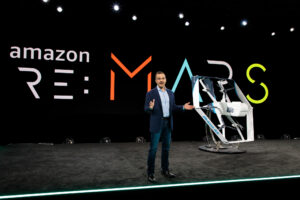 Amazon is finally starting to address some of the actual challenges with drone delivery, making us slightly less skeptical
Amazon has been working away at its Prime Air urban and suburban drone delivery for years. Many years. It's been at least half a decade now. And for the entire time, we've been complaining that Amazon has been focusing on how to build drones that can physically transport objects rather than how to build drones that can safely and reliably transport objects in a manner that makes economic sense and that people actually want.
At its re:MARS conference today, Amazon showed off a brand-new version of its Prime Air drone. The design is certainly unique, featuring a hybrid tailsitter design with 6 degrees of freedom, but people have been futzing with weird drone designs for a long time, and this may or may not be a.) what Amazon has actually settled on long-term or b.) the best way of doing things, versus other techniques like Google Wing's dangly box.
What's much more exciting is that Amazon seems to now be addressing the issue of safety, and has added a comprehensive suite of on-board sensing and computing that will help the drone deal with many of the complex obstacles that it's likely to encounter while doing its job.