This Robot Ostrich Can Ride Around on Hovershoes
Go to article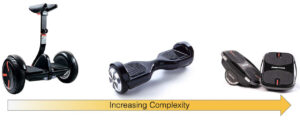 Cassie gets a speedy new pair of shoes. Wheee!
Proponents of legged robots say that they make sense because legs are often required to go where humans go. Proponents of wheeled robots say, "Yeah, that's great but watch how fast and efficient my robot is, compared to yours." Some robots try and take advantage of wheels and legs with hybrid designs like whegs or wheeled feet, but a simpler and more versatile solution is to do what humans do, and just take advantage of wheels when you need them.
We've seen a few experiments with this. The University of Michigan managed to convince Cassie to ride a Segway, with mostly positive (but occasionally quite negative) results. A Segway, and hoverboard-like systems, can provide wheeled mobility for legged robots over flat terrain, but they can't handle things like stairs, which is kind of the whole point of having a robot with legs anyway.
At UC Berkeley's Hybrid Robotics Lab, led by Koushil Sreenath, researchers have taken things a step further. They are teaching their Cassie bipedal robot (called Cassie Cal) to wheel around on a pair of hovershoes. Hovershoes are like hoverboards that have been chopped in half, resulting in a pair of motorized single-wheel skates. You balance on the skates, and control them by leaning forwards and backwards and left and right, which causes each skate to accelerate or decelerate in an attempt to keep itself upright. It's not easy to get these things to work, even for a human, but by adding a sensor package to Cassie the UC Berkeley researchers have managed to get it to zip around campus fully autonomously.