Jaco Is a Low-Power Robot Arm That Hooks to Your Wheelchair
Go to article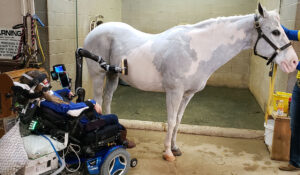 The lightweight carbon fiber arm has three fingers and six degrees of freedom
We usually think of robots as taking the place of humans in various tasks, but robots of all kinds can also enhance human capabilities. This may be especially true for people with disabilities. And while the Cybathlon competition showed what's possible when cutting-edge research robotics is paired with expert humans, that competition isn't necessarily reflective of the kind of robotics available to most people today.
Kinova Robotics's Jaco arm is an assistive robotic arm designed to be mounted on an electric wheelchair. With six degrees of freedom plus a three-fingered gripper, the lightweight carbon fiber arm is frequently used in research because it's rugged and versatile. But from the start, Kinova created it to add autonomy to the lives of people with mobility constraints.
Earlier this year, Kinova shared the story of Mary Nelson, an 11-year-old girl with spinal muscular atrophy, who uses her Jaco arm to show her horse in competition. Spinal muscular atrophy is a neuromuscular disorder that impairs voluntary muscle movement, including muscles that help with respiration, and Mary depends on a power chair for mobility.
We wanted to learn more about how Kinova designs its Jaco arm, and what that means for folks like Mary, so we spoke with both Kinova and Mary's parents to find out how much of a difference a robot arm can make.